Observing a root system throughout a plant's life cycle is key to understanding overall plant behavior and health, and to improving crop performance.

The CI-600 is a minirhizotron that gives plant scientists, crop consultants, and farmers the ability to capture non-destructive, high-resolution, digital images of living roots in soil over multiple growing seasons. Durable and lightweight, the CI-600 is a portable minirhizotron that is easy to transport to any field location and can be used in sites with root tubes across a range of treatments or conditions. Our free root analysis software, RootSnap!, quickly and easily calculates parameters including root length, area, volume, diameter & branching angle.

With the CI-600, image acquisition can be performed automatically and remotely. Wireless connectivity allows the researcher to retrieve root images with virtually any wireless device.

Includes scanner head, calibration tube, three 6-foot standard clear soil tubes with end caps, CanoScan Image Capture and ArcSoft Image Viewing software packages, USB cable, measuring rod with depth markers, operation manual and instrument case.
Super high-resolution image up to 23.5 million pixels
Linear scanning with no distortion
Each scan provides a 360-degree image (21.59 × 19.56cm)
Very portable and quick operation
Allows observing root growth and behaviour during an entire growing season or longer
USB interface for laptop computer image storage
CI-601/602 enables unmanned long term remote root image monitoring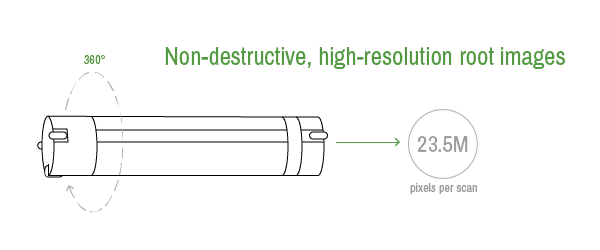 The CI-600 is designed for long-term root studies on living plants in the field. Install clear acrylic tubes within the study area prior to the growing season. When the plant begins to build a network of roots, images of the structure and behaviour of the roots can be recorded and analysed with an available root analysis software package. The CI-600 scanner head fits within the tubes to scan roots as they grow over time, providing nearly 360-degree high-resolution colour images of soil and roots.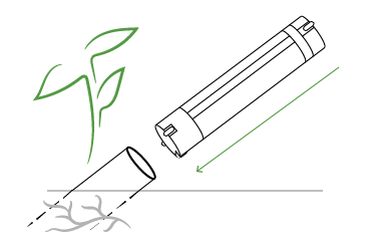 To obtain an image, insert the CI-600 scan head into a pre-installed underground tube and begin the scanning program on the computer. The scan head automatically rotates nearly 360-degrees, creating a 21.59 × 19.56cm-size high-resolution colour image of the soil and roots. Users can easily move the scan head to different depths, and from tube to tube.
CI-600 comes with:
The CI-600 main scanner unit
Scanning software
USB connecting cable
Three 105cm standard clear tubes with end caps
Indicator rod
Operation manual
Calibration tube
Software manual
Hard-shell instrument carrying case
Optional:
Laptop or Handheld computer
Imaging analysis software
For the easy installation of tubes, we offer a gasoline powered auger set (sold separately). We will be happy to provide more information on this product, upon request.
Specifications

Scanner Resolution
100, 300, 600 and 1200 dpi settings.
One Image Size
21.6cm x 19.6cm (WxL)
Scan Speed
30 seconds to 4 minutes – depending on scan resolution
Interface
USB
Power Supply
Computer USB port
Scan Head Dimensions
34.3 cm long x 6.4 cm diameter
Standard Clear Tube Dimensions
6.4 cm inner diameter x 105 cm length
Weight
750g
Specifications are subject to change.
RootSnap! Root Image Analysis Software.
CI600 References
Dannoura, M., Kominami, Y., Oguma, H. and Kanazawa, Y. 2008, 'The Development of an Optical Scanner Method for Observation of Plant Root Dynamics', Plant Root, vol. 2, pp. 14-18.
Fischer, D.G., Hart, S.C., LeRoy, C.J. and Whitman, T.G. 2007, 'Variation in Below-ground Carbon Fluxes along a Populus Hybridization Gradient', New Phytologist, vol. 176, pp. 415-425.
Fischer, D.G., Hart, S.C., Rehill, B.J., Lindroth, R.L., Keim, P. and Whitham, T.G. 2006, 'Do High-tannin Leaves Require More Roots?', Oecologia, vol. 149, pp. 668-675.
Gaul, D., Hertel, D., Borken, W., Matzner, E. and Leuschner, C. 2008, 'Effects of Experimental Drought on the Fine Root System of Mature Norway Spruce', Forest Ecology and Management, vol. 256, pp. 1151-1159.
Graefe, S., Hertel, D. and Leuschner, C. 2008, 'Fine Root Dynamics along a 2,000-m Elevation Transect in South Ecuadorian Mountain Rainforests', Plant and Soil
Meier, I.C. 2007, Above ground and below ground response of European beech to drought: field studies and experiments. zur Erlangung des Doktorgrades der Mathematisch-Naturwissenschaftlichen Fakultäten. Göttingen, Georg-August-Universität zu Göttingen: 131.